Testimonials
Infertility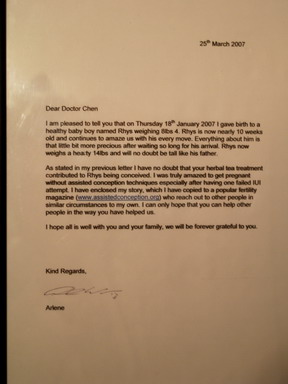 25th March 2007
Dear Doctor Chen
I am pleased to tell you that on Thursday 18th January 2007 I gave birth to a healthy baby boy named Rhys weighing 8Ibs 4. Rhys is now nearly 10 weeks old and continues to amaze us with his every move. Everything about him is that little bit more precious after waiting so long for his arrival. Rhys now weighs a hearty 14Ibs and will no doubt be tall like his father.
As stated in my previous letter I have no doubt that your herbal tea treatment contributed to Rhys being conceived. I was truly amazed to get pregnant without assisted conception techniques especially after having one failed IUI attempt. I have enclosed my story, which I have copied to a popular fertility magazine (www.assistedconception.org) who reach out to other people in similar circumstances to my own. I can only hope that you can help other people in the way you have helped us.
I hope all is well with you and your family, we will be forever grateful to you.
Kind regards,
Arlene
25th March 2007
To Whom It May Concern
I want to start my story by saying that I had read a few of these type of life accounts when trying for a baby and just hoped that it would suspected that it wouldn't happen to us.
Prior to turning thirty. I hadn't really thought much about having children, I guess I just presumed that if I chose that path it would happen right away for me. My husband and I had been together for quite a while and married for two years when we agreed that the time was try to try for a family.
Time passed by from one month to two and so on until a year had passed with on success. During this time I tried ovulation sticks and used up loads of pregnancy tests. Not being one to wait around after the year I went to the doctor who carried out routine blood tests which all came back normal with the exception of my thyroid test. I was advised that I was borderline hypothyroid and that may be the reason for our difficulty conceiving. I was really pleased that I maybe had a reason for the wait and that it would be addressed. I took the medication right away and still nothing happened.
I managed to get a laporoscopy through my private health care after which I was advised that I had mild to moderate endometriosis and a large(9cm in diameter) endometriosis cyst on one of my ovaries. I arranged a laparotomy operation to remove the cyst for a fortnight later during which time I continued with my reflexology and homeopathic medicine and acupuncture. Prior to the operation I had to sign consent for the removal of one ovary if it was beyond repair. I was woken by the surgeon with the news that my cyst had burst on its own which was highly unusual. I was so pleased that I had both ovaries that I didn't bother much about the 5 inch cut where I had been opened up for no reason. After the operation I was quite ill and the last thing on my mind was trying for a baby. When fully recovered, about two months later we started trying again during which time I booked holidays in the hope that I would get pregnant as people were always saying that you would get pregnant at the most inconvenient time. Secretly I prayed that by booking the holiday I would somehow get pregnant (crazy I know but that was least of the crazy thoughts flying through my mind during that period). My head hurt sometimes with the constant thinking about having a baby and I cried a lot mostly around the time of my period. My husband was fantastic he would be sad tat times but managed to keep my spirits up offering loads of support even when I was a little bit neurotic.
As we were still waiting for IUI on the NHS we decided to give it a go at the Nuffield. I went along to start at which time I was told that I had a regular cyst on one ovary and treatment could not commence until it had cleared. I thought that acupuncture had cleared my endometriosis cyst so I again turned to it. I found a Chinese doctor on Cambridge Street, near my work. I don't think that this doctor's treatment made the slightest difference to my cysts but I continued to go and paid him quite a lot of money in the process. I was given acupuncture, Chinese tea and cupping.
About two months later when my cyst had cleared I started IUI treatment at the Nuffield taking the clomid and giving myself injections to stimulate egg production. When I went for my scan I was told that I had hyper stimulated and that IUI would not be possible. I was inconsolable that afternoon I couldn't believe my bad luck. We never got IUI at the Nuffield as I had other cysts as a result of the hyper stimulation by which time we had reached the top of the NHS list for IUI.
We went to Monklands Hospital where we answered the same awful, personal questions and started treatment. My poor husband had to keep giving samples to the different hospitals a subject, which brought us quite a lot of amusement because if we didn't laugh then we would have cried for certain. The nurses at Monklands were fantastic and made me feel much more at ease. We missed a few months due to more cysts and eventually managed to try one IUI session using just clomid to prevent hyper stimulation. My expectations were very high and sadly not met, as we did not get pregnant.
Around about this time the Chinese doctor I had been seeing went back to China for a holiday. I was convinced that If I stopped drinking my tea then I would really have on chance so I stumbled across the HUI CHUJN CLINIC at 325 Great Western Road. I saw Doctor WEI XIONG CHEN who speaks perfect English, which made a hug difference not speaking through an interpreter. He told me that that the condition of my womb was not able to sustain a pregnancy and prescribed more tea. I had been having very light periods for some years only lasting two days so that seemed possible. He also told me that I didn't need acupuncture or cupping. I was really sick of the tea and becoming cynical about Chinese medicine but Doctor Chen gave me some hope as did the numerous thank you letters on his walls from ladies that had got pregnant using his tea some of which had even tried IVF with no success.
On 13th April 2006 I had a period which resembled that which I had when I was about thirteen years of age, by this time I had been drinking the tea and visiting Doctor Chen weekly for about 3 months. I booked a holiday as I was having a treatment break at Monklands due to more cysts. We went to Cyprus for a week and I had a couple glasses of wine each night and returned home feeling refreshed and ready to recommence treatment. My periods didn't come and I was really annoyed, as I wanted to get right back into the IUI. I held of doing a pregnancy test as I couldn't face the disappointment and I had been having cramps so I knew my period was imminent. When I reached 4 days overdue I did the test and couldn't believe my eyes, a big fat positive result.
The day marked the rest of our lives, which had been on hold for two and a half years. We were nervous wrecks for the whole nine months until 18th January 2007 when our son Rhys was born weighing a healthy 8lbs 4ounces. He is absolutely gorgeous and we love him to bits, well worth the wait. I am convinced that Doctor Chen's tea was the reason I fell pregnant and that my heavy period was proof of that.
During the wait I also tried hypnotherapy, which definitely helped me relax. The CD specifically for infertility is meant to reverse your subconscious thinking that you can't get pregnant. Our journey to parenthood has made me very aware of other people's feelings and I will never ask anyone "are you not going to have children then? If you are you better get a move on the old clocks ticking" nor will I say "just relax and it will happen". I can safely say our infertility journey has been the hardest time of my life. I have made a vow to always tell people it wasn't easy for me to get pregnant so that anyone going through it can realize they are not alone. Finally I would like to say please don't give up because if it can happened to me it can happen to you..
Arlene
Glasgow