Features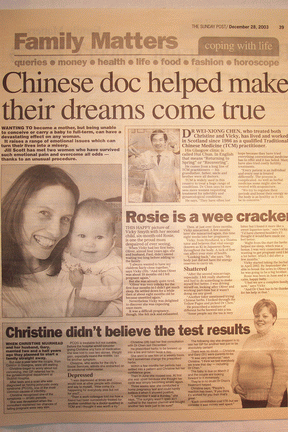 Chinese doc helped make their dreams come true
All copy from THE SUNDAY POST/December 28, 2003
WANTING TO become a mother, but being unable to conceive or carry a baby to full - term, can have a devastating effect on any woman.
It raises a range of emotional issues which can turn their lives into a misery.
Jill Scott has met two women who have survived such emotional pain and overcome all odds - thanks to an unusual procedure.
DR WEI-XIONG CHEN, who treated both Christine and Vicky, has lived and worked in Scotland since 1986 as a qualified Traditional Chinese Medicine (TCM) practitioner.
His Glasgow clinic is called Hui Chun. In English that means"Returning to Spring" or"Recovering".
He comes from a long line of TCM practitioners - his grandfather, father, uncle and brother were all doctors.
TCM is widely used in this country to treat a huge range of conditions. Dr Chen says he now sees more women requesting treatment for infertility and gynaecological conditions.
He says,"They have often lost hope because they have tried everything conventional medicine has to offer and it has failed. Many have also tried costly fertility treatments.
"Every patient is an individual and every one is treated differently. The process is complicated. As well as herbal medicine some might also be treated with acupuncture.
"We try to regulate their periods and boost their energy so the body is as healthy as it can be to conceive."
Rosie is a wee cracker
THIS HAPPY picture of Vicky Smyth with her second child, six-month-old Rosie, is one the proud mum despaired of ever seeing.
When Vicky had her first baby, Oliver, almost four years ago, she and husband, Paul, didn't intend waiting too long before adding to the family.
"I always wanted to have my children fairly close together," says Vicky (39)."And when Oliver was about 18months old I fell pregnant again."
But she was already quite tired.
"Oliver was very colicky for the first four months so I didn't get much sleep. He settled down for a while then at about eight months old he became unsettled again."
Nevertheless Vicky was delighted to discover she was expecting once more.
It was a difficult pregnancy, though. She felt sick and exhausted.
Then, at just over three months, Vicky miscarried. A few months later she miscarried again, this time eight weeks into her pregnancy.
Vicky, from Hyndland, is a Shiatsu tutor and believes that vital energy (known as Ki in Japanese) flows throughout the body. A lack of flow can affect your state of health.
"Looking back," she says."My body just did not have the energy reserves to carry on.
Shattered
"After the second miscarriage, especially, I felt really shattered and had to do something to make myself feel better. I was driving myself on, looking after Oliver and working part-time but it wasn't doing me any good.
"Another tutor mentioned trying Chinese herbs. I looked through the Yellow Pages and picked Dr Chen."
He prescribed a mixture of different herbs brewed into a tea.
"Some people say the tea is very bitter but I found it more like a sweet liquorice taste," says Vicky."I'd have chewed boulders if I thought it would have made feel better.
"Right from the start the herbs helped me sleep, which was a bonus. I was very conscious of not wanting to get pregnant until I felt a lot better, which I did after a few months."
Vicky started taking the herbal tea in April 2002. By September she was able to break the news to Oliver that he was going to be a big brother.
Rosie was born in June and is a calm, happy baby.
"I feel we are a complete family now," says Vicky.
"And Dr Chen has to be thanked for his help in that."
Christine didn't believe the test results
WHEN CHRISTINE MUIRHEAD and her husband, Gary, married two and a half years ago they planned to start a family straight away.
But over a year later the couple, from Colston in Glasgow, were still waiting. Christine began to worry about not conceiving. Her GP referred her to the gynaecological department at Stobhill Hospital.
After tests and a scan she was diagnosed as having polycystic ovary syndrome (PCOS), one of the most common causes of infertility.
Christine recognised one of the symptoms-erratic periods.
She was devastated when the consultant explained her chances of falling pregnant were very slim. PCOS is treatable but not curable. Before the hospital would consider giving Christine any form of medication she was told to lose two stones. Weight gain especially round the middle, can be another symptom.
Christine, who works for the city's Social Services, admits she embarked on an emotional rollercoaster.
Depressed
"I was depressed at times and would look at other people with children and say to myself, 'How come it's happening for everybody else but not for you?'."
Then a work colleague told me how a friend had been successfully treated for another condition by a doctor qualified in TCM and I thought it was worth a try."
Christine (28) had her first consultation with Dr Chen last December.
He prescribed herbs to be brewed up into a tea and taken twice a day.
She went to see him on a weekly basis. He'd sometimes change the prescribed herbs.
Within a few months her periods had settled into a pattern and Christine felt her confidence grow.
Then in June she missed one. At first she was upset because she thought her cycle was simply becoming erratic again.
Three weeks later she conducted a home pregnancy test and could hardly believe it when it showed positive.
"I remember it was a Sunday," she says."The surgery wasn't open so I rushed to the nearest chemist and bought another two tests just to be sure!"
The following day she dropped in to see her GP for another test just to be absolutely certain!
There was no doubt- Christine and Gary (31) were parents-to-be.
"It was very emotional," says Christine."I think we told everybody we knew that day - including Dr Chen."
The baby is due on March 2 and the couple are looking forward to it immensely.
They're in no doubt Dr Chen's treatment helped.
Christine says,"People's reaction has been, 'If you think it's worked for you then that's great.'
"Each consultation cost £35but we consider it was money well spent."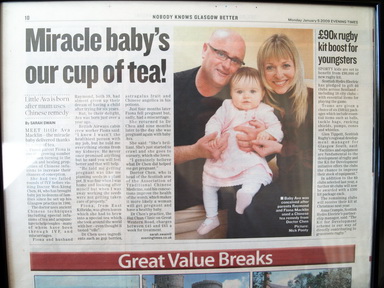 Miracle baby's our cup of tea!
-Little Ava is born after mum uses Chinese remedy
                           By Sarah Swain
Acupuncture and Chinese Medicine, Infertility, Glasgow, Scotland
Monday January 5 2009 EVENING TIMES
MEET little Ava Macklin – the miracle baby delivered thanks to a cup of tea.
Proud parent Fiona is one of a growing number of women turning to the health and healing properties of Chinese infusions to increase their chances of conception.
She had two failed rounds of IVF before visiting Doctor Wei-Xiong Chen, 44, who has brought baby joy to dozens of families since he set up his Glasgow practice of acupuncture and Chinese medicine in 1986.
The doctor uses ancient Chinese techniques including special infusions of tea and acupuncture to help couples – many of whom have been through IVF, and miscarriages.
Fiona and husband Raymond, both 39, had almost given up their dream of having a child after trying for six years.
But, to their delight, Ava was born just over a year ago.
British Airways cabin crew worker Fiona said: "I knew I was not the healthiest person with my job, but he told me everything stems from my kidneys. He never once promised anything but he said you will fell better and that will help."
"He told me getting pregnant was like me planting seeds in a plant pot. It was fine when I was home and looking after myself but when I was away working the seeds were not getting taken care of properly."
Fiona, from East Kilbride, was given leaves which she had to brew into a special tea which she took around the world with her – even thought it tasted "vile".
Dr Chen uses ingredients such as goji berries, astragalus fruit and Chinese angelica in his potions.
Just four months later Fiona fell pregnant but, sadly, had a miscarriage.
She returned to Dr Chen and nine months later to the day she was pregnant again with baby Ava.
She said: "She is brilliant. She is just started to crawl and she goes on nursery, which she loves."
"I genuinely believe what Dr Chen did helped me get pregnant."
Doctor Chen, who is head of Scottish arm of the Association of Traditional Chinese Medicine, said his concoctions improve the health of the womb, which makes it more likely a woman will get pregnant and have a healthy baby.
Dr Chen's practice, the Hui Chun Clinic situates on 325 Great Western Road, Glasgow.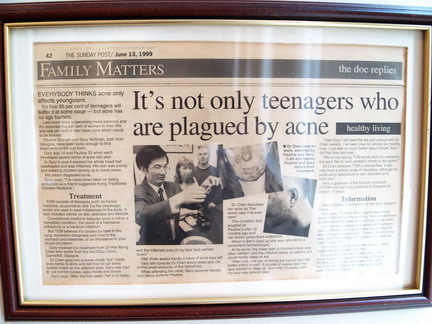 It's not only teenagers who are plagued by acne
All copy from THE THE SUNDAY POST Family Matters/ June 13, 1999
EVERYBODY THINKS acne only affects youngsters.
It is true 95 per cent of teenagers will suffer it at some stage – but acne has no age barriers.
Late onset acne is becoming more common and it's reckoned five per cent of women in their 40s and one per cent of men have acne which needs to be treated.
Pauline Graham and Gary McGrath, both from Glasgow, have been lucky enough to find treatments which suit them.
Gary was 35 and Pauline 33 when each developed severe forms of acne last year.
In Gary's case it seemed his whole head had overheated and was inflamed. His skin was prickly and weeping clusters sprang up in some areas.
His doctor diagnosed acne.
Gary says, "I've never been keen on taking antibiotics so a friend suggested trying Traditional Chinese Medicine."
TREATMENT
TCM consists of therapies such as herbal medicine, acupuncture and Tui-Na (massage) which are used to treat imbalances in the body. It also includes advice on diet, exercise and lifestyle.
Conventional medicine believes acne is either a hereditary condition, the result of a hormonal imbalance or a bacterial infection.
But TCM believes it's caused by heat in the lung, excessive dampness and heat in the stomach and intestine, or an imbalance in your blood circulation.
Gary received his treatment from Dr Wei Xiong Chen who works from the Hui Chun Clinic, Garnethill, Glasgow.
Dr Chen gave him a home-made "tea" made from herbs to drink and told him to rub some herbal cream on the affected area. Gary also had to cut out hot curries, spicy foods and booze.
Gary says, "After the first week I felt a lot better, and the inflamed area of my face had calmed down."
After three weeks hardly a trace of acne was left.
Gary still consults Dr Chen every week and still drinks small amounts of the herbal tea.
While attending the clinic, Gary became friendly with fellow sufferer Pauline.
Dr Chen describes her acne as "the worst case I've ever seen".
The condition first erupted on Pauline's chin 18 months ago and her doctor prescribed antibiotics.
When it didn't clear up she was referred to a consultant dermatologist.
At its worst, the lower part of Pauline's face was often swollen and the infected areas so painful she could hardly sleep or eat.
"After only one day of taking the herbal tea I felt better within myself. A couple of weeks later my face started to clear up. And only 10 weeks later my face was almost clear".
"Like Gary I still take the tea and consult with Dr Chen weekly. I've been clear for almost six months now. I just feel so much better about myself, than I did this time last year".
We're not saying TCM would work for everyone, but we'd like to open people's minds to the option."
Dr Chen stresses TCM is steroid-free. It can help treat a whole range of disorders, although he particularly specialises in skin disorders and back pain.
He's a graduate of the Canton University of TCM and has had a practice in Glasgow for almost 10 years.
Information
Alison Dudley is a member of the Acne Support Group.
She says, "There still a stigma attached to acne. Sufferers will try anything from conventional to alternative therapies to try and get some relief.
"Our advice is always that whatever treatment you're offered, use it as directed and not look for any overnight improvement. Treating acne is long-term and if something isn't working you must go back to your GP.
"Don't wait to go for treatment either—early treatment can prevent scarring."
If you'd like more information about the Acne Support Group send an sae to them at PO Box 230, Hayes, Middlesex,UB4 0UT. Tel. 0181 561 6868 or visit their website at www.m2w3.com/acne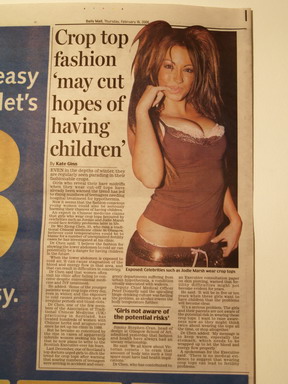 Crop top fashion 'may cut hopes of having children'
By Kate Ginn
All copy from THE Daily Mail /February 16,2006
EVEN in the depths of winter, they are regularly seen parading in their fashionable
crops.
Girls who reveal their bare midriffs when they wear cut-off tops have already been
warned the trend has led to rising numbers of teenagers needing hospital treatment for
hypothermia.
Now it seems that the fashion-conscious young women could also be seriously
harming their chances of having children.
An expert in Chinese medicine claims that girls who wear crop tops favoured by celebrities such as Jordon and Jodie Marsh could face fertility problems later life.
Dr Wei-Xiong Chen, who runs a traditional Chinese medicine clinic in Glasgow, blame for a number of unexplained fertility cases he investigated at his clinic.
Dr Chen said: 'I believe the fashion for showing the lower abdomen to cold air can potentially be a danger for having children in the future.'
'When the lower abdomen is exposed to cold air, it can cause stagnation of the blood and energy flow in that area, and that can result in difficulties in conceiving.'
Dr Chen said that women often visit his clinic after failing to conceive despite conventional medicine and IVF treatment.
He added: 'Some of the younger patients wear crop tops every day, even in winter, and this exposure to cold causes problems such as irregular periods and blood clots.'
Dr Chen, one of the few members of the Association of Traditional Chinese Medicine (UK) practicing in Scotland, has treated hundreds of women with Chinese herbs and acupuncture since he set up his clinic in 1986.
Last December, one of Scotland's top doctors urged girls to ditch the trend for crop tops after warning that soaring number of teenagers were arriving in accident and emergency departments suffering from urban hypothermia, a condition usually associated with walkers.
'Girls not aware of the potential risks'
Jimmy Stephen-Cran, head of design at Glasgow School of Art, admitted yesterday that fashion and health have always had an uneasy relationship.
He said: 'We all know about Victorian corsets- to cram that amount of body into such a tiny space must have had health implications.'
Dr Chen, who has contributed to an Executive consultation paper on skin piercing, warned that fertility difficulties might not become evident for years.
He said: 'It will be in five or ten years when these girls want to have children that the problems will become clear.
'It's a serious problem. The girls and their parents are not aware of the potential risk in wearing these crop tops. I want to raise awareness now so they might think twice about wearing the tops all the time, or stop altogether.'
Dr Chen added: 'My message is to keep warm, especially the stomach, which needs to be wrapped up to let the blood and energy flow properly.'
A spokesman for the Executive said: 'There is no medical evidence to suggest that wearing crop tops can lead to fertility problems.'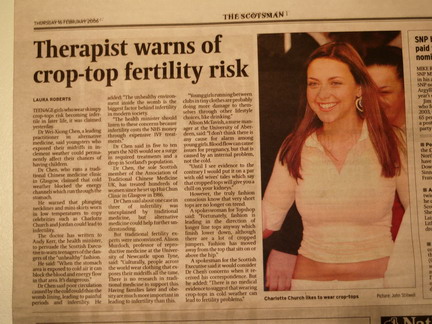 Therapist warns of crop-top fertility risk
Laura Roberts
All copy from THE Scotsman /February 16,2006
All copy from THE Sun /February 16,2006

Teenage girls who wear skimpy crop-tops risk becoming infertile in later life, it was claimed yesterday.
Dr. Wei-Xiong Chen, a leading practitioner in alternative medicine, said youngsters who exposed their midriffs in inclement weather could permanently affect their chances of having children.
Dr. Chen, who runs a traditional Chinese medicine clinic in Glasgow, claimed that cold weather blocked the energy channels which run through the stomach.
He warned that plunging necklines and mini-skirts worn in low temperatures to copy celebrities such as Charlotte Church and Jordan could lead to infertility.
The doctor has written to Andy Kerr, the health minister, to persuade the Scottish Executive to warn teenagers of the dangers of the "unhealthy" fashion.
He said: "when the stomach area is exposed to cold air it can block the blood and energy flow in that area. It's dangerous."
Dr Chen said poor circulation caused by the cold could thin the womb lining, leading to painful periods and infertility. He added: "the unhealthy environment inside the womb is the biggest factor behind infertility in modern society."
"The health minister should listen tot these concerns because infertility costs the NHS money through expensive IVF treatments."
Dr Chen said in five to ten year the NHS could see a surge in required treatments and drop in Scotland's population.
Dr Chen, the sole Scottish member of the Association of Traditional Chinese Medicine UK, has treated hundreds of women since he set up Hui Chun Clinic in Glasgow in 1986.
Dr Chen said about one case in there of infertility was unexplained by traditional medicine, but alternative medicine could help further understanding.
But traditional fertility experts were unconvinced. Alison Murdoch, professor of reproductive medicine at the University of Newcastle upon Tyne, said: "culturally, people across the world wear clothing that exposes their midriffs all the time. There is no research in traditional medicine to support this. Having families later and obesity are much more important in leading to infertility than this.
"Young girls running between clubs in tiny clothes are probably doing more damage to themselves through other lifestyle choices, like drinking."
Alison McTavish, a nurse manager at the University of Aberdeen, said: "I don't think there is any cause for alarm among young girls. Blood flow can cause issues for pregnancy, but that is caused by an internal problem, not the cold.
"Until I see evidence to the contrary I would put it on a par with old wives' tales which say that cropped tops will give you a chill on your kidneys."
However, the truly fashion conscious know that very short tops are no longer on trend.
A spokeswoman for Topshop said: "Fortunately, fashion is leading in the direction of longer line tops anyway which finish lower down, although there are a lot of cropped jumpers. Fashion has moved away from the top that sits on or above the hip."
A spokesman for the Scottish Executive said it would consider Dr Chen's concerns when it received his correspondence. But he added: There is no medical evidence to suggest that wearing crop-tops in cold weather can lead to fertility problems."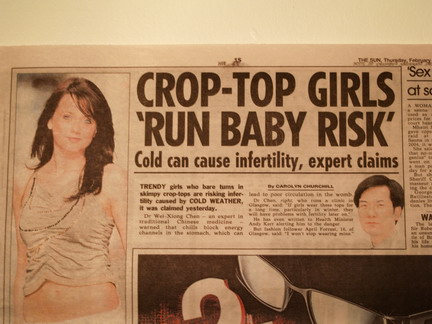 CROP-TOP GIRLS `RUN BABY RISK`
Cold can cause infertility, expert claims
By CAROLYN CHURCHILL
Trendy girls who bare tums in skimpy crop-tops are risking infertility caused by COLD WEATHER, it was claimed yesterday.
Dr Wei-Xiong—an expert in traditional Chinese medicine—warned that chills block energy channels in the stomach, which can lead to poor circulation in the womb.
Dr Chen, right, who runs a clinic in Glasgow, said: `If girls wear these tops for a long time, particularly in winter, they will have problems with fertility later on."
He has even written to Health Mister Andy Kerr alerting him to the danger.
But fashion follower April Forrest, 16, of Glasgow, said: 'I won't stop wearing mine."