Products
E-mail address:wxngchen@yahoo.com
Please note that this e-mail address is for product information only.
Please dial 0044 0141 357 1313 for other information.
Thank you for your kind co-operation.
Chen's Woodlock Oil Glasgow
Herbal Rub For Pain Relief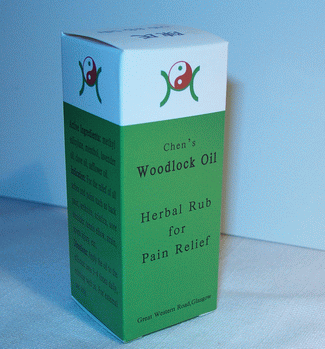 Active Ingredients:
methyl salicylate, menthol, lavender oil, clove oil, safflower oil.
Indication:
For the relief of all aches and pains such as back pain, arthritis, sciatica, sore shoulder, tennis elbow, strain, sports injury, etc.
Directions:
Apply the oil to the effected area 3-4 times daily, rubbing well in. For external use only.
Price:
£15/per bottle
Chen's Herbal Cream ACNE Glasgow
Ingredients:
huangbai, huangqin, dahuang, baigou, beewax, soft paraffin, water.
Directions:
Apply it on the effected area and rub it well in, once or twice a day.
For external use only. Please keep it cold. Keep out of reach of the children.
Price:
£15/per jar
Acne cream
Chen's Beauty Cream@ Glasgow
Special Formulated Organic Hand-Made Moisturising Cream
Active ingredients:
Wild Ginseng, Organic Royal Jelly, Astragalus, Bletilla, Organic Honey, Bee Wax, White Soft Paraffin, Liquid Paraffin.
Indication:
This specially formulated facial cream helps improve blood and energy flow to nourish your skin and maintain elasticity, and gives you young radiant looking. It's effective for dry skin, pigmentation, spots, wrinkles & crow's-feet, dark circles, freckles. Suitable for women, men and children. Apply it on your face, neck and hands twice a day (morning and night), rub it in well until the cream disappears.
History:
This cream was created by Dr. (TCM) Wei-Xiong Chen 15 years ago. Originally he created this cream for his own use and he has been using it for the last 15 years. In September 2006 a patient asked what Dr. (TCM) Chen used for his skin and she requested to try the cream and was amazed by the result. Dr.(TCM)Chen was encouraged a lot by that lady to make the cream for other people(mostly his clients) to use and they benefited a lot from using the cream.
Secret:
This beauty cream is unique (no one else has the same formula and the procedure for making it remains a secret) and effective.
* NON CHEMICALS HERBAL MOISTURISING CREAM.
* Non-greasy and fragrance free. Day and Night cream.
* For External Use Only. Keep out of reach of the children.
* Please keep it in a cold dark place.
Price:
£20/per jar.