Testimonials
Ref. Acupuncture/Spondylitis/Pain Relief/Glasgow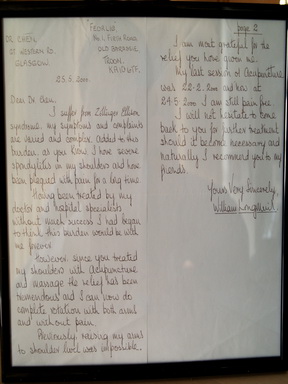 Old Barassie
Troon
25/5/2000
Dear Dr Chen,
I suffer from Zollinger Ellison syndrome, my symptoms and complaints are varied and complex, added to this burden, as you know. I have severe spondylitis on my shoulders and have been plagued with pain for a long time.
Having been treated by my doctor and hospital specialists without much success I had began to think this burden would be with me forever.
However, since you treated my shoulders with acupuncture and massage the relief has been tremendous and I can now do complete rotation with both arms and without pain.
Preciously, raising my arms to shoulder level was impossible.
I am most grateful for the relief you have given me.
My last session of acupuncture was 22/2/2000 and now at 24/5/2000 I am still pain free.
I will not hesitate to come back to you for further treatment should it become necessary and naturally I recommend you to my friends.
Yours Very Sincerely,
William Longmuil