Testimonials
Ref. Acupuncture and Pain Relief,Glasgow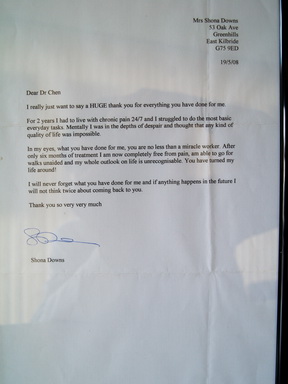 Mrs S. Downs
East Kilbride
19/5/08
Dear Dr Chen,
I really just want to say a HUGE thank you for everything you have done for me.
For two years I had to live with chronic pain 24/7 and I struggled to do the most basic everyday tasks. Mentally I was in the depths of despair and thought that any kind of quality of life was impossible.
In my eyes, what you have done for me, you are no less than a miracle worker. After only six months of treatment I am now completely free from pain, am able to go for walks unaided and my whole outlook on life is unrecognisable. You have turned my life around!
I will never forget what you have done for me and if anything happens in the future I will not think twice about coming back to you.
Thanks you so very very much
S. Downs