Testimonials
Ref. Chinese Herbal Medicine/Acupuncture/Male Infertility/Female Infertility/Cancer/Glasgow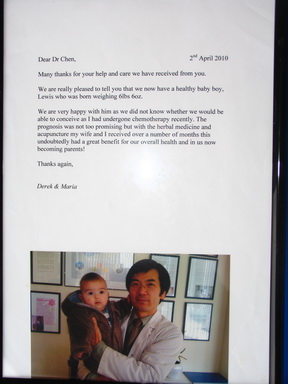 2nd April 2010
Dear Dr Chen,
Many thanks for your help and care we have received from you.
We are really pleased to tell you that we now have a healthy baby boy, Lewis who was born weighing 6lbs 6oz.
We are very happy with him as we did not know whether we would be able to conceive as I had undergone chemotherapy recently. The prognosis was not too promising but with the herbal medicine and acupuncture my wife and I received over a number of months this undoubtedly had a great benefit for our overall health and in us now becoming parents!
Thanks again,
Derek & Maria