Testimonials
Infertility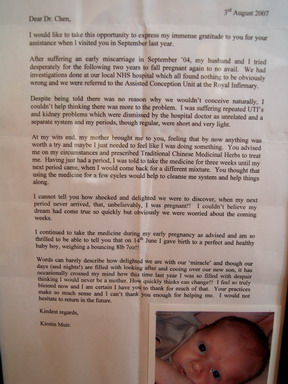 3rd August 2007
Dear Dr. Chen
I would like to take this opportunity to express my immense gratitude to you for your assistance when I visited you in September last year.
After suffering an early miscarriage in September '04, my husband and I tired desperately for the following two years to fall pregnant again to no avail. We had investigations done at our local NHS hospital which all found nothing to be obviously wrong and we were referred to the Assisted Conception Unit at the Royal Infirmary.
Despite being told there was no reason why we wouldn't conceive naturally, I couldn't help thinking there was more to the problem. I was suffering repeated UTI's and kidney problems which were dismissed by the hospital doctor as unrelated and a separate system and my periods, though regular, were short and very light.
At my wits end, my mother brought me to you, feeling that by now anything was worth a try and maybe I just needed to feel like I was doing something. You advised me on my circumstances and prescribed Traditional Chinese Medicinal Herbs to treat me. Having just had a period, I was told to take the medicine for three weeks until my next period came, when I would come back for a different mixture. You thought that using the medicine for a few cycles would help to cleanse me system and help thins along.
I cannot tell you how shocked and delighted we were to discover, when my next period never arrived, that, unbelievably, I was pregnant!! I couldn't believe my dream had come true so quickly but obviously we were worried about the coming weeks.
I continued to take the medicine during my early pregnancy as advised and am so thrilled to be able to tell you that on 14th June I gave birth to a perfect and healthy baby boy, weighing a bouncing 8Ib 7oz!!
Words can barely describe how delighted we are with our 'miracle' and though our days ( and nights!) are filled with looking after and cooing over our new son, it has occasionally crossed my mind how this time last year I was so filled with despair thinking I would never be a mother. How quickly things can change!! I feel so truly blessed now and I am certain I have you to thank for much of that. Your practices make so much sense and I can't thank you enough for helping me. I would nor hesitate to return in the future.
Kindly regards,
Kirstin Muir