Testimonials
Ref. Acupuncture/Stroke/ Acupuncture Clinic in Glasgow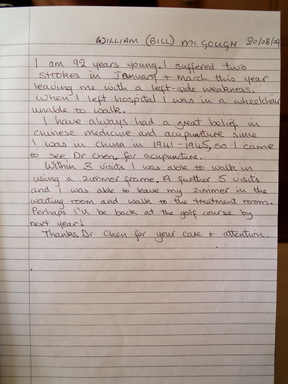 William (Bill) McGougm (20/08/09)
I am 92 years young. I suffered two strokes in January and March this year leaving me with a left-side weakness. When I left hospital I was in a wheelchair unable to walk.
I have always had a great belief in Chinese Medicine and acupuncture since I was in China in 1941-1945, so I came to see Dr Chen for acupuncture.
Within 3 visits I was able to walk in using a zimmer frame. A further 5 visits and I was able to leave my zimmer in the waiting room and walk to the treatment room. Perhaps I will be back at the golf course by next year.
Thanks Dr Chen for your care and attention.