Testimonials
Ref. Blocked fallopian tubes/Infertility/Acupuncture/Chinese medicine/Glasgow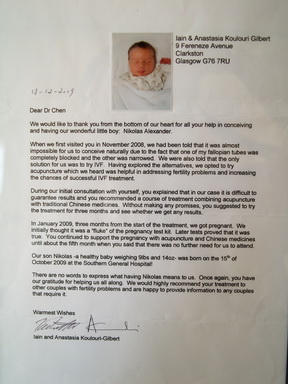 18/12/2009
Dear Dr Chen
We would like to thank you from the bottom of our heart for all your help in conceiving and having our wonderful little boy: Nikolas Alexander.
When we first visited you in November 2008, we had been told that it was almost impossible for us to conceive naturally due to the fact that one of my fallopian tubes was completely blocked and the other was narrowed. We were also told that the only solution for us was to try IVF. Having explored the alternatives, we opted to try acupuncture which we heard was helpful in addressing fertility problems and increasing the chances of successful IVF treatment.
During our initial consultation with yourself, you explained that in our case it is difficult to guarantee results and you recommended a course of treatment combining acupuncture with traditional Chinese medicines. Without making any promises, you suggested to try the treatment for three months and see whether we get any results.
In January 2009, three months from the start of the treatment, we got pregnant. We initially thought it was a 'fluke' of the pregnancy test kit. Later tests proved that it was true. You continued to support the pregnancy with acupuncture and Chinese medicines until about the fifth month when you said that there was no further need for us to attend.
Our son Nikolas – a healthy baby weighing 9lbs and 14oz – was born on the 15th of October 2009 at the Southern General Hospital!
There are no words to express what having Nikolas means to us. Once again, you have our gratitude for helping us all along. We would highly recommend your treatment to other couples with fertility problems and are happy to provide information to any couples that require it.
Warmest Wishes
Iain and Anastasia Koulouri-Gilbert