Testimonials
Infertility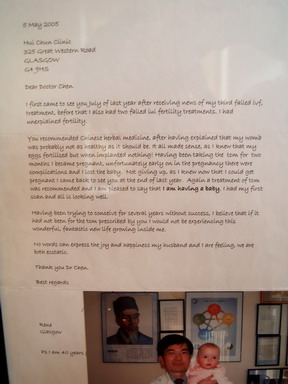 5 May 2005
Hui Chun Clinic
325 Great Western Road
Glasgow
G4 9HS
Dear Dr. Chen
I first came to see you July of last year after receiving news of my third failed IVF treatment, before that I also had two failed fertility treatments. I had unexplained fertility.
You recommended Chinese herbal medicine, after having explained that my womb was probably not as healthy as it should be. It all made sense, as I knew that my eggs fertilized but when implanted nothing! Having been taking the TCM for two months I became pregnant, unfortunately, early on in the pregnancy there were complications and I lost the baby. Not giving up, as I knew now that I could get pregnant I came back to see you at the end of last year. Again a treatment of TCM was recommended and I am pleased to say that I am having a baby. I had my first scan and all is looking well.
Having been trying to conceive for several years without success, I believe that if it had not been for the TCM prescribed by you I would not be experiencing this wonderful, fantastic new life growing inside me.
No words can express the joy and happiness my husband and I are feeling, we are both ecstatic.
Thank you Dr Chen
Best regards
Rene
Glasgow
ps I am 40 years young