Testimonials
Ref. Chinese Medicine/Polycystic Ovary Syndrome(PCOS)/Infertility/Glasgow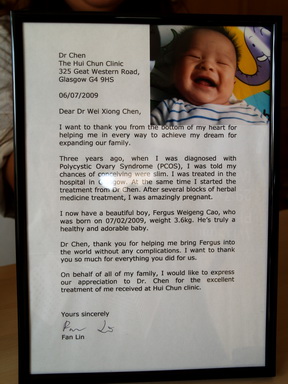 06/07/2009
Dear Dr Wei Xiong Chen
I want to thank you from the bottom of my heart for helping me in every way to achieve my dream for expanding our family.
Three years ago, when I was diagnosed with Polycystic Ovary Syndrome (PCOS), I was told my chances of conceiving were slime. I was treated in the hospital in Glasgow. At the same time I started the treatment from Dr Chen. After several blocks of herbal medicine treatment, I was amazingly pregnant.
I now have a beautiful boy, Fergus Weigeng Cao, who was born on 07/02/2009, weight 3.6kg. He is truly a healthy and adorable baby.
Dr Chen, thank you for helping me bring Fergus into the world without any complications. I want to thank you so much for everything you did for us.
On behalf of all of my family, I would like to express our appreciation to Dr. Chen for the excellent treatment of me received at Hui Chun Clinic.
Yours sincerely
Fan Lin