Testimonials
Psoriasis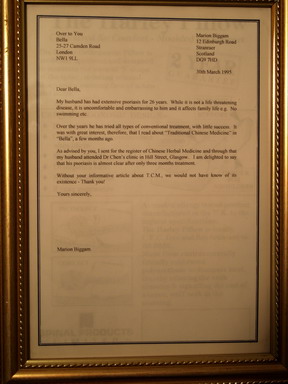 Over to You
Bella
25-27 Camden Road
London
NW1 9LL
Marion Biggam
12 Edinburgh Road
Stranraer
Scotland
DG9 7HD
Dear Bella,
My husband has had extensive psoriasis for 26 years. While it is not a life threatening disease, it is uncomfortable and embarrassing to him and it affects family life e.g. No swimming etc.
Over the years he has tried all types of conventional treatment, with little success. It was with great interest, therefore, that I read about "Traditional Chinese Medicine" in "Bella", a few months ago.
As advised by you, I sent for the register of Chinese Herbal Medicine and through that my husband attended Dr Chen's clinic in Hill Street, Glasgow. I am delighted to say that his psoriasis is almost clear after only three months treatment.
Without your informative article about T.C.M., we would not have know of it sexistence –Thank you!
Yours sincerely,
 Marion Biggam.