Testimonials
Psoriasis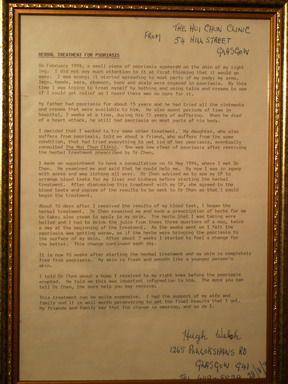 The Hui Chun Clinic
54 Hill Street
Glasgow
HERBAL TREATMENT FOR PSORIASIS
On February 1994, a small piece of psoriasis on the shin of my right leg. I did not pay much attention to it at first thinking that it would go away. I was wrong; it started spreading to most parts of my body; my arms, legs, hands, ears, stomach, back and scalp were covered in psoriasis. By this time I was trying to treat myself by bathing and using talc and creams to see if I could get relief as I heard there was no cure for it.
My father had psoriasis for about 15 years and he had tried all the ointments and creams that were available to him. He also spent periods of time in hospital, 3 weeks at a time, during his 15 years of suffering. When he died of a heart attack, he still had psoriasis on most parts of his body.
I decided that I wanted to try some other treatment. My daughter, who also suffers from psoriasis told me about a friend, who suffers from the same condition, that had tried everything to get rid of her psoriasis, eventually consulted The Hui Chun Clinic. She was now clear of psoriasis after receiving the herbal treatment prescribed by Dr Chen.
I made an appointment to have a consultation on 16 May 1994, where I met Dr Chen. He examined me and said that he could help me. By now I was in agony with sores and was itching all over. Dr Chen advised me to see my GP to arrange blood tests for my liver and kidneys before starting the herbal treatment. After discussing this treatment with my GP, she agreed to the blood tests and copies of the results to be sent to Dr Chen so that I could begin the treatment.
About 10 days after I received the results of my blood test, I began the herbal treatment. Dr Chen examined me and made a prescription of herbs for me to take; also cream to apply to my skin. The herbs that I was taking were boiled and I had to drink the juice from them: three quarters of a mug, twice a day at the beginning of the treatment. As the weeks went on I felt the psoriasis was getting worse, as if the herbs were bringing the psoriasis to the surface of my skin. After about 7 weeks I started to feel a change for the better. This change continued each day.
It is now 10 weeks after starting the herbal treatment and my skin is completely free from psoriasis. My skin is fresh and smooth like a younger person's skin.
I told Dr Chen about a bump I received to my right knee before the psoriasis erupted. He told me this was important information to him. The more you can tell Dr Chen, the more help you may receive.
This treatment can be quite expensive. I had the support of my wife and family and it is well worth persevering to get the final results that I got. My friends and family say that the change is amazing, and so do I.
Hugh Welsh
Pollokshaws Road
Glasgow G41
28/8/94